By Tausif Ahmed Qurashi
There are 5.2 million hectares of floodplain areas in the Indo-Gangetic river basin of which 2.8 million hectares are located in Bangladesh. During monsoon, about one-third of the lands in Bangladesh remain under water. As inundated floodplains are rich in nutrients, it served as excellent feeding, breeding, and nursing grounds for fish and other aquatic organisms. However, a large proportion of floodplains and open water bodies remain almost fallow throughout the year. By nurturing these fallow water bodies, floodplains can contribute significantly to ensure food security and improve the livelihood of the rural community.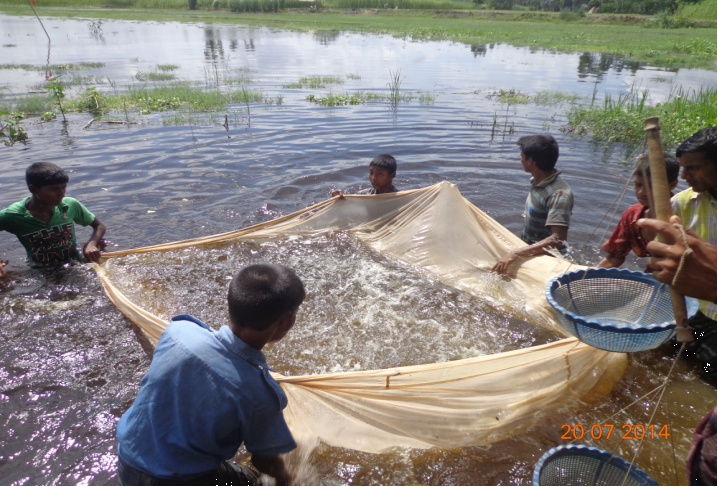 On that notion, BRAC Agriculture and Food Security Programme has initiated a program to bring this fallow lands under fish culture activities in a community-based floodplain management approach, where the adjacent people of water-body have been encouraged to form a community who are engaged in all types of activities of fish production. In some parts of Bangladesh, this approach has been seen to be very effective to transforming a waste land to a resourceful water-body.
Overall objective of the fish culture in seasonal floodplain are:
To bring the fallow water bodies under production,
To meet protein demand, and
To engage the community people towards a sustainable production system from where they can improve their socio-economic condition.
This program has been started in seven different floodplains from Pirojpur, Bagerhat, Gopalgonj, Rangpur, and Lalmonirhat districts in 2013. These seasonal floodplains were under the combined management of the respective community people and BRAC Agriculture and Food Security Programme, mostly providing technical and fingerlings support. As part of their technical support, periodical trainings on improved fish culture technologies were provided to participants covering selection of good quality fish fingerling, application of lime and fertilizer, harvesting procedures, benefits of community-based floodplain management approach etc.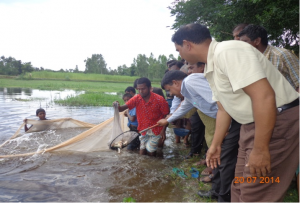 Ensuring undisturbed habitat and restriction of fishing for the certain period has provided floodplains to contribute to higher productivity and to enrich biodiversity. Average production from the partial harvest of seven floodplains were 795 kg/ha. Average income was 82,926 taka/ha against the average production cost of 54,584 taka/ha. Most significant achievement of this intervention is that the participants made savings of more than 40% from their total income. More than importantly, by incorporating the community as a key stakeholder helped this seasonal floodplain management initiative model sustainable.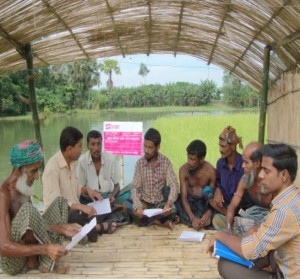 Capitalizing on this success, this program in seasonal floodplain has extended recently to another 13 seasonal floodplains from July 2014. This scale-up initiative will cover 65 hectares of water bodies in Pirojpur, Jhalakathi, Bagerhat, Rangpur, Bogra, and Lalmonirhat districts.
Seasonal floodplains and open water bodies can be promoted for fish culture for 6-8 months in a year without doing any major infrastructural changes. This approach has been proved as socially acceptable and economically profitable which helps to increase the household income and family fish consumption. It provides an equal platform to share profits among the landowners and landless people of a community and also creates an opportunity to improve their livelihood and nutrition.
 Tausif Ahmed Qurashi is a Team Leader with the BRAC Agriculture and Food Security Programme
We'll send you a weekly dose of inspiration.
Just about the right amount, not more.
Scroll Down and Subscribe!