On December 1, the BRAC Social Innovation Lab organized its second Innovation Forum. The question: would a for-profit private school model from Kenya work in Bangladesh?  Asif Saleh presented some observations from a recent visit to the Bridge Academy in Kenya to stimulate discussion among staff from all programs on what BRAC can learn and potentially should adapt from it.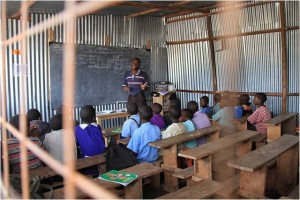 The discussion quickly moved from "can we do this?" to higher-level issues, including disempowerment of teachers, complete standardization vs. local adaptation, and sustainable vs. for-profit approaches.  Bridge Academy has a "cookie-cutter" model: they work hard on quality assurance through a combination of scripted curricula, incentive-based payment for school "managers", and random supervisory visits.  Their system is paperless and cashless—parents make all payments centrally (US $4/month), and can do so on their own schedule via mobile cash transfers. The downsides are not trivial: Forum participants voiced concerns about a lack of flexibility and active, spontaneous participation of teachers, students and parents alike.  At a deeper level, some raised questions about what effect the introduction of such a model in Bangladesh would have on the existing BRAC Primary Schools. Indeed, one participant proposed that perhaps BRAC should rather be thinking about taking its model of primary education to more new countries and expanding operations in places where they are already in action. Even in approaching the issue of secondary schools, we came up with a range of different strategies, from entering the secondary sector on its own to intensifying the effort put into supporting existing public schools. If BRAC does decide to intervene directly, what sort of a curriculum should it have? How much emphasis on vocational education should be placed, or is a good quality secondary education the best form of vocational training?  Could we create a core general curriculum and leave room for additional courses to be added locally?
Participants had a lot of great ideas and questions.  Several had spent time in East Africa and were able to add additional context—examples of other models from the area that were more empowerment-oriented and explanations of how the political violence in 2008 and resulting changes in the public educational system (abolition of school fees) contributed to an overwhelmed infrastructure.  Certainly there are similarities between a city like Nairobi and Dhaka, but these insights in the ecosystem are really helpful in considering whether we would see similar interest from communities and parents here in a fee-based option.
The forum ended with the conclusion that the Bridge Academy model has several interesting components that may be applicable to Bangladesh. BRAC is open to taking what works from it, while exploring research and other promising models.  Many suggestions of where else to look were generated, so there are some exciting next steps to move on!  We are so pleased that there is an immediate use to our new virtual space for dialog, which was mentioned at the forum.
Please feel free to post any comments/questions/additional resources here!