BRAC Health Programme has recently expanded its horizon to address one of today's most crucial aspects of well-being: mental health. With a strong focus on community development, BRAC's foray into mental health marks a significant milestone in its journey. On July 27, 2023, our Innovation Adda shed light on how BRAC's mental health initiative was born from scratch and how it has become an integral part of their holistic approach to support the wellbeing of communities.
The focus was on BRAC's community mental healthcare model, developed in collaboration with Noncommunicable Disease Control (NCDC) and Directorate General of Health Services (DGHS). The model aims to provide mental health support to approximately 400,000 people in both urban and rural areas. Moderated by Kazi Ashfaqul Huq, Interaction Designer, the adda presented the opportunity to hear from Dr Morseda Chowdhury, Director of Health at BRAC, Farjana Sharmin, Programme Manager for Clinical Psychology at BHP, as well as paracounsellors Jebin Akhter and Tanzina Akhter.
The Adda commenced with a simple yet profound question: "What do we think of when we hear mental health?" 
The attendees responded with a symphony of perspectives, each shedding light on the multi-faceted nature of this crucial aspect of well-being. Some described it as finding peace within oneself, while others saw it as the ability to cope with life's challenges. It became evident that mental health is a deeply personal and unique experience for everyone.
Dr Morseda Chowdhury, Director of Health at BRAC kicked off the adda by taking the attendees on a journey of how mental health has been an area of focus for BRAC for the longest time, owing to Abed bhai's recognition of the importance of mental health and sheer will to do something about it. With that in mind, BHP started its journey of integrating mental health into its primary healthcare service offerings. By combining the expertise of community health workers (Shasthya Kormi) and para-counsellors, the intervention aimed to uptake a comprehensive approach to address mental health challenges at the grassroots.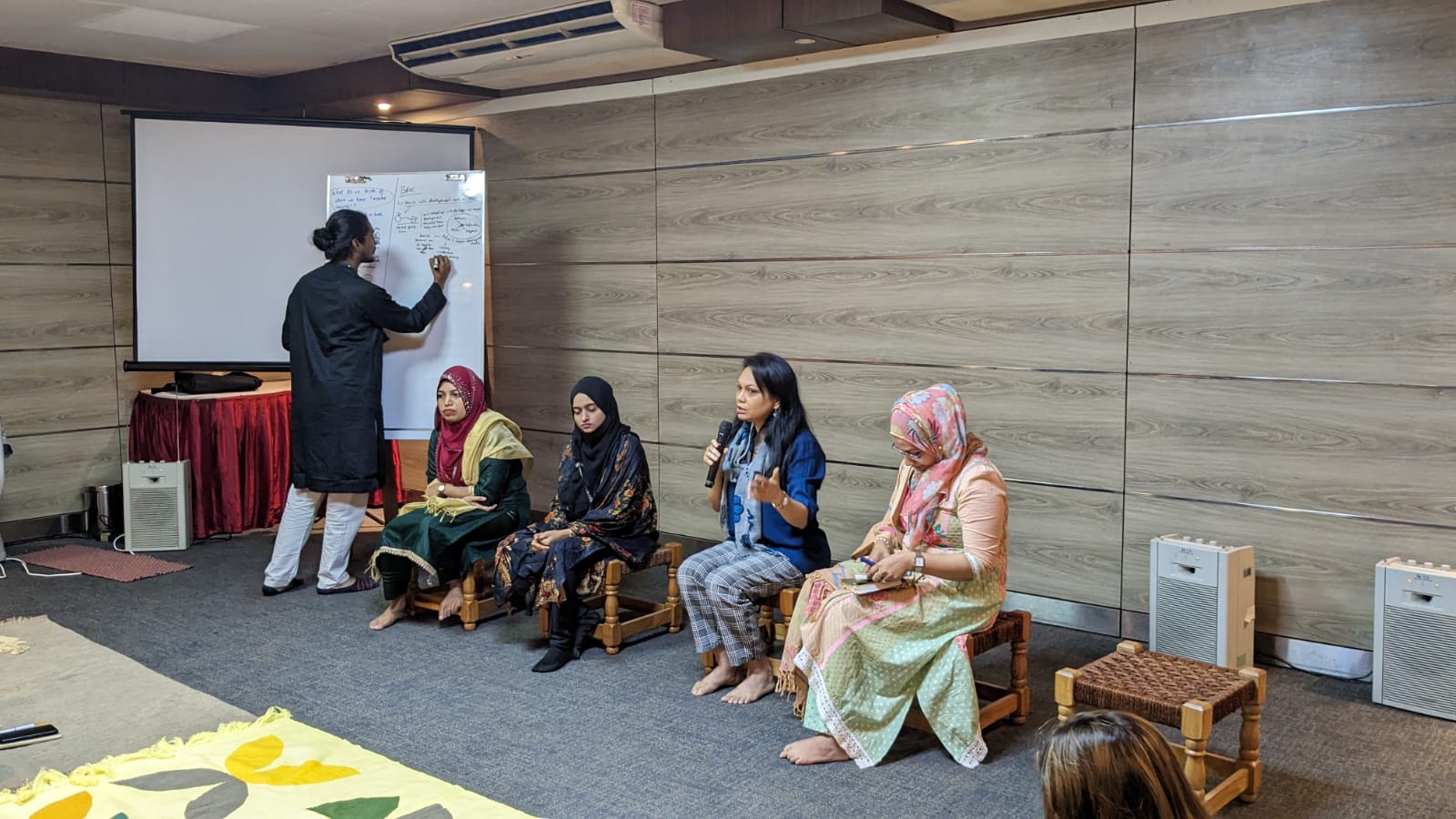 The COVID-19 pandemic, strained family dynamics, and a lack of coherence were some of the root causes discussed as the rising tide of mental health challenges across communities. Particularly since the pandemic, communities have faced financial challenges and social isolation, which have exacerbated the tension and anxiety that many people experience.
Throughout the journey, it became clear that men and women in communities have their own unique experiences when it comes to mental health and wellbeing. Additionally, it was also evident that rural areas with more severe economic struggles had higher rates of mental health challenges. For a population of 169.4 million, the country hosts only 1000 mental health experts, 250 of which are clinical experts. This highlights the pressing need for accessible mental health infrastructure for the wellbeing of its people. Due to persisting stigmas surrounding mental health, only 13–15% of people have a thorough awareness of mental health and an even lower percentage of people seek treatment. Recognising this significant gap in service for mental health at the primary level in communities, BRAC established this innovative paracounsellor model.
These paracounsellors interact with the community and spread awareness on the importance of mental health and how one can seek treatment and support. They recognise those who require assistance through their screening method, which includes 11 essential inquiries. The intervention has so far been able to showcase that counselling alone is able to successfully resolve 70–80% of cases, demonstrating the value of this novel strategy.
In an effort to help build a community that promotes wellbeing in light of mental health, from an early age, BHP plans to expand these efforts and include students in schools. Before that however, the goal is to bring the existing community of psychologists and psychiatrists into the system, to expand its reach which poses to be a monumental task.
Tanzina Akhter and Farzana Akhter, shared their remarkable journey as a paracounsellors, where personal growth and community impact intersected. Initially unfamiliar with the concept of mental health, their world transformed after undergoing comprehensive training.
In the households they visited, they identified cases of mental health concerns, realising that awareness about mental health was evidently scarce in the area. Undaunted by this obstacle, they engaged the neighbourhood with respect and compassion, in the hopes of creating an environment that promotes trust and secrecy by building meaningful connections.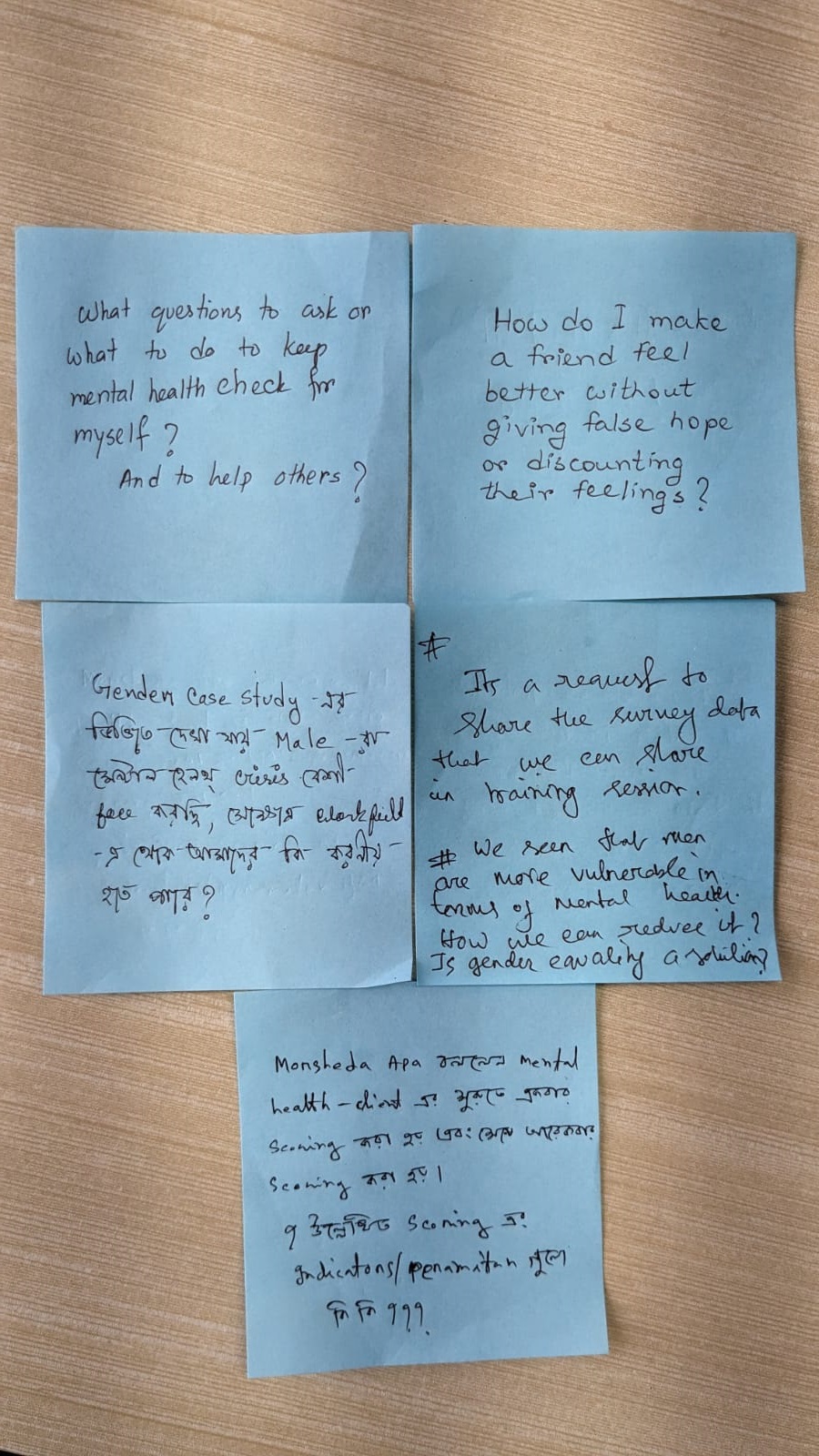 Farjana Sharmin, Programme Manager for Clinical Psychology at BHP highlighted the complex nature of mental health, emphasising that it includes a combination of physical, emotional, and cognitive factors. She emphasised on the necessity of self-awareness, as understanding oneself is critical in caring for one's own well-being and positively contributing to society. She emphasised that mental health is a practice that incorporates how we think and express empathy towards others as well.
"Men should not have mental health issues and men should not express themselves much which might make them less manly."
The prevalent stigma associated with mental health, particularly in terms of gender stereotypes was addressed where the importance of breaking free from such societal expectations and standards was brought to light. Everyone must be their own mental health champion, cultivating a culture of openness, acceptance, and understanding.
The conversation delved into the grave global issue of suicide, particularly among young people aged 10 to 19, which has risen to become the world's third biggest cause of death. This dismal truth underscores the enormous impact that mental health concerns have on individuals and societies as a whole.
Finally, the adda shed light on how productivity can be boosted by prioritising mental well-being, creating a positive impact on many elements of life, including our quality of life. Through this adda on mental health and its impact on overall wellbeing, we learnt that amidst a world once plagued by diseases like Cholera and Pneumonia, where medical advances have triumphed over many physical ailments, a new challenge has emerged. In the shadows of diabetes and hypertension, this unseen adversary has silently affected countless lives. Yet, hope flickers on the horizon as we look towards a brighter future where mental health is prioritised, nourished, and celebrated, with each of us doing our parts to teardown barriers of stigma and misconception.