"Bangladesh needs a more highly-skilled workforce to achieve accelerated economic growth and to reduce our dependence on skilled manpower from neighboring countries."- Sir Fazle Hasan Abed.
This brings us to the next question: How will the country equip today's youth for their future and for the future of the country?
On the other hand, major macro policies highlight that alongside energy and infrastructure, the lack of relevant skills is one of the key impediments for Bangladesh to reach middle income status by 2025.  
So what are the ways for Bangladesh to skill her human resources where formal training institutions contribute to only about 10% of the country's employment, due to the mismatch in demand and supply?
BRAC's Skills Development Programme (SDP) has answers to these questions!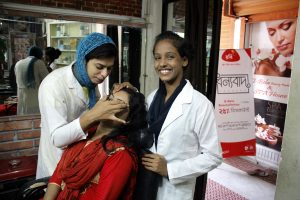 Recognising the challenges of the sector, the Government of Bangladesh (GoB) has introduced the National Skills Development Policy 2011.[1] Building on BRAC's strategic priorities for 2016-2020, SDP has been designed to support the GoB implement the NSDP and as such, contribute to achieve the macro goal of developing a skilled Bangladesh, as well as the Sustainable Development Goal (SDG) 8.
SDP envisages to provide demand based skills training in both urban and rural areas and ensures decent employment opportunities in the domestic and overseas markets to youth and adults, including disadvantaged groups.  At least 50% of SDP's beneficiaries are females and 10% are people with disabilities.SDP provides apprenticeship and institution based training in the formal and informal sectors.
For both modalities, there is a strong focus on partnerships with public and private institutions, not only for the delivery of training, but also to ensure access to markets and jobs for graduates; and foster value chain and enterprise development within the informal and formal markets.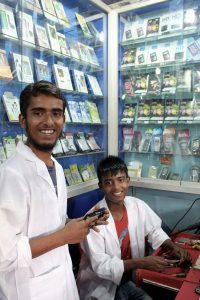 SDP will also contribute to develop modules and the capacity of professionals in the sector.
Bangladesh's informal sector contributes to over 80% of the Gross Domestic Product (GDP) and absorbs the majority of the workforce (87%)—mainly within the age of 14 – 24 and especially those who have low level of schooling.
SDP proactively works in the informal sector, training and providing jobs to disadvantaged youth through its flagship initiative, the Skills Training for Advancing Resources (STAR)[2] project, and also supports entrepreneurship and enterprise development.
Building on the traditional apprenticeship model that has existed more commonly for men in South Asia for thousands of years, the STAR project places apprentices in pairs under small entrepreneurs who are developed as Master Crafts Persons (MCP) by the project.
The module is significantly cheaper than institution based training and after just six months of training, apprentices get employed. Trades are chosen based on the demands of an increasingly service oriented economy—with a focus on placing girls in non-traditional trades, including people with disabilities and hijras[3].
Results till date have shown that about 99% of STAR's 12'000 graduates were employed within a month of their training completion, with a 100% increase of their income in most cases. This contributed to their socio economic empowerment with significant impact on self-confidence (e.g. regarding personal decision-making, their household role); and in many cases, decreasing the risks of early marriage for girls[4].
So why does STAR work so well?
 Though the project focuses on the informal sector, it uses formal systems, structures and modalities.

 

Competency Based Training (CBT) is provided in line with the National Technical and Vocational Qualifications Framework (NTVQF) of the NSDP 2011

Support is provided to MCPs through orientations and training on:

 

CBT for ensuring quality training.

 

Decent Work guidelines for ensuring Occupational Health and Safety etc.

 

Entrepreneurship development for further development of their business.

SDP establishes formal MoUs with MCPs for their services and ensures that graduates are hired through proper employee contracts.

Apprentices learn in pairs and become work-ready through a combination of theoretical and on-the-job training.

Learners are provided a package of soft skills, including entrepreneurship skills, language skills, labour rights and social issues, which significantly contribute to their empowerment.

Social Inclusion is a cross cutting theme for SDP and therefor all interventions strives to ensure social inclusion. This approach contributes to strengthen cohesion within the community.

Graduates are supported for job linkages or enterprise development and tracked to follow the impact of the training they received.
To diversify its programme, SDP is now piloting new modules for institution based training in the formal and private sector.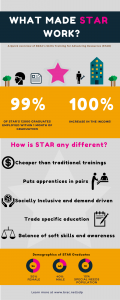 Please visit brac.net/sdp to learn more.
Bibliography: 
[1]Recognising the inadequacies of the existing Technical Vocational Education and Training (TVET) system to cater to the growth of the country's economy, and the need for upskilling its human resources, especially the youth, the Government of Bangladesh (GoB) promulgated the National Skills Development Policy (NSDP) in 2011.  The NSDP overhauled the TVET sector by establishing a National Technical Vocational Qualification Framework (NTVQF), introducing a Quality Assurance System (QAS) for the country, and recognizing that training that is provided for both domestic and overseas employment by private institutions, Non-Formal Organizations (NGOs) and through informal mechanisms are equally important and can make a huge contribution to the economy if standardized.
[2]The STAR module has been developed by BRAC through a three year pilot supported by BRAC SPA, ILO and UNICEF.
[3]Following the GoB's proclamation in 2012 of Hijras being a third gender in Bangladesh, SDP strives to include males, females and hijras in all its interventions.
[4]RAHMAN et al.: The Effects of Skill Training on the Livelihoods of School Dropout Adolescents: Evidence from BRAC's Intervention. Dhaka:2016
We'll send you a weekly dose of inspiration.
Just about the right amount, not more.
Scroll Down and Subscribe!