Guest post by Manik Kumar Saha and Iffat Khan (Young Professionals, Batch 4)
Thanks to the gains made over the past 40 years in primary education, secondary school is increasingly an urgent area of priority in Bangladesh.  In recent years the enrollment in primary level has increased, but this can't be our ultimate destination. We have a vision that the young generation of Bangladesh will not restrict themselves in primary level rather expand their choices in tertiary level both in academic and professional affairs. To do so they need a quality secondary education to bridge the chasm between primary and tertiary level.
BRAC is assessing the opportunity to open its own secondary schools to ensure quality education.  In other settings, a for-profit model has enabled organizations to reach scale and achieve self sustainability.  Bridge Academy in Kenya is one example of this strategy.  In conjunction with the Social Innovation Lab, BRAC Education Programme (BEP) has identified the following areas of inquiry to inform its planning:
To identify BRAC's opportunities with proper understanding of macro-level scenario of Bangladesh in secondary education
To find a potential strategy to design a fee based self-sustaining secondary school operating model which will provide quality education, and
To identify a business model based on the recommendations and decisions of the operating model. 
During our attachment with BEP, we are focusing on this project. We have review some existing literature and the data from BANBEIS (Bangladesh bureau of Educational Information & Statistics) to have a idea regarding the existing macro-level scenario of secondary education of Bangladesh. We also visited different forms of private secondary school, both at district and upazilla level, and some BRAC (PACE = Post Primary Basic and Continuing Education)-supported non-government schools as well.
We have put together a presentation (available for download) categorizing our findings into three major areas: demand for BRAC secondary schools from students and parents; what BRAC secondary schools would need to provide; and important differences of positioning schools at the district and upazilla levels.  It also includes some fascinating geographical information system (GIS) maps from BANBEIS (Bangladesh bureau of Educational Information & Statistics) on student teacher ratio (see map below) and the passing rate of SSC (Secondary School Certificate) and HSC (Higher Secondary School Certificate)  exam at upazilla level of Bangladesh.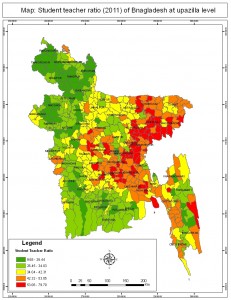 Currently, we are drilling deeper into the GIS maps to identify potential locations for BRAC secondary schools.  In addition, we are being joined this week by colleagues from the Pearson Foundation, who are providing significant expertise and strategic support.  When they visited in December, they were extremely impressed by BRAC's primary schools (see this great video where they explain why).  The question that they posed to BRAC now is one of translation: how we can apply the innovations that have been so effective at the primary level to the more complex setting of a secondary school?  It will be great to have their fresh eyes here to help us begin to tackle this question.