Have you ever imagined how it would feel like if you did not have to go to school in monsoon? Or, how would it feel like if you don't have to go to school at all to receive education? Instead of you going to school, what if the school comes to you, teach, take tests and go back? Interesting, right? But how is that possible? Well, if you have visited to Derai, Sylhet and have seen the BRAC boat school, you know exactly what I am talking about!
On a gloomy morning of June 22, 2015 a small team of 6 persons from Integrated Development Program (IDP) & Social Innovation Lab (SIL) went for a field visit to Derai, Sylhet. The objective was to build better understanding on IDP programs. Due to monsoon, Derai Upazila became less field and more marshland. It took us about 4 hours to reach Shyamarchar, Derai from the Sylhet BLC.

Throughout the journey, having inundated Haor on both sides of the road, we were already wondering, how people manage their everyday life here. While reaching from one place to another is a big obstacle, attending school every day must be a luxury to the children! And then we ran into one of the BRAC's boat schools: 'BRAC Shikkhatori'!
Under IDP in Derai Upazila, BRAC manages boat schools in 5 area offices (Shamarchar, Dhal bazar, Vatiapara, Jogdal Bazar and Derai Sadar). The high-impact, low-cost model of BRAC primary schools provide disadvantaged students a second chance at learning.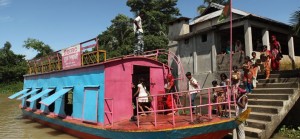 The boat school is kept in a safe place at night. In the morning it anchors to a certain place, where it's easier for students to come. The school starts at 9 am and ends at 12:30 pm. Since the number of schools (44) are more than the boats available (38), some boat schools have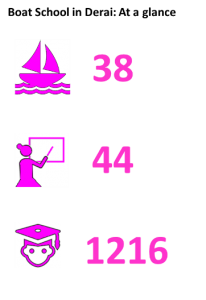 more than a shift. BRAC develops textbooks and other materials for up to class 3 and government textbooks are being used in classes 4 and 5.
Minimum qualification of the teachers are Junior School Certificate (JSC) and more than 50% of the students are girls. However one exception is Jogdal Baza,r where 66% girls dropped out. When inquired, Mr. Abu Daud, sector specialist, ADC said that: 'the presence of the govt. primary school nearby and its scholarship are the key factors of high dropout rate. High rate of poverty makes people more interested to financial gain. Reluctance to girls-education of local people is also a crucial factor'.
The little faces gave us a warm welcome when we entered the school . They played a game of naming countries and their level of knowledge really surprised us.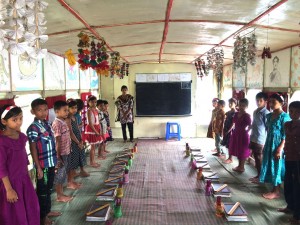 We asked them some question based on the curriculum they are taught in the school. Some of them were correct, some of them were not. But their enthusiasm towards education, despite all the vulnerabilities like poverty, flooding, limited livelihood opportunities, etc amazed us instantly. We were recharged after seeing their performances. We said goodbye with the best wishes for their life ahead and headed toward another program to visit, but deep in our mind we all were sure to come back someday and meet them again.
Apurba Swatee Mahboob is a Team Leader, Data Management Team with the BRAC Social Innovation Lab.
We'll send you a weekly dose of inspiration.
Just about the right amount, not more.
Scroll Down and Subscribe!