Innovation Fund for Digital Financial Services
In the context of Bangladesh, the rapid adoption of mobile money has created exciting opportunities to accelerate financial inclusion for the poor, and particularly women. BRAC believes there is a tremendous opportunity to use mobile money to innovate, better serve our clients, and become more efficient as an organisation.
Since 2013, the Social Innovation Lab has partnered with the Bill & Melinda Gates Foundation through the Innovation Fund for Digital Financial Services to explore the integration of mobile money across our programmes and internal operation platforms. Beginning with experimentation through a diverse portfolio of pilot projects (including micro-insurance products, mobile savings for adolescents, and sanitation loans), BRAC has since scaled solutions within its microfinance, education, and integrated development programmes.

BRAC has now introduced mobile money for salary payments to 23,078 teachers across 8,695 schools in Bangladesh. 100% of our branch offices in remote haor (wetlands) and char (riverine island) areas have converted to cashless operations. By 2019, BRAC will have opened over one million bKash accounts and trained more than six million clients, mostly women. From digitising salaries to promoting bKash for savings schemes, BRAC has identified ways to catalyse financial inclusion through mobile money.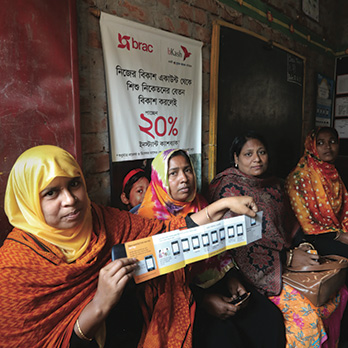 Women are often tasked with managing household financial transactions, even when they do not have access to formal financial institutions. It should be no surprise then that once BRAC clients gain the confidence to use mobile money, they quickly begin to explore possibilities to make their lives more convenient and financially secure. Azmira Khatun is a busy parent. She takes her eight-year-old son to Birostail primary school in Rajshahi every day, cooks for her family and also keeps tabs on the monthly household expenditures. She was introduced to bKash more than a year ago when BRAC schools initiated mobile payments. With the help of a BRAC field official, Azmira has learned to use bKash. Every month, she pays her BDT 300 savings installments from her mobile wallet. Azmira was a novice user just a year back when she opened her own mobile wallet. She now believes that bKash makes life a lot easier. To her, the most exciting bKash feature is the airtime recharge and the provision to pay electricity bills.

"Earlier, we had to stand in long lines to pay the bills. Now I can just do it from home." -Azmira thinks that bKash services are on the rise and one day she will be able to use bKash for most financial transactions on a regular basis.