In the global South, improving financial inclusion for women has taken more of a textbook approach: building confidence, opening up wallets, providing technical training and introducing scopes of usage. However, these women often rely heavily on their peers and nearby agent network before fully adopting the technology. This article highlights use-cases and field insights from Bangladesh, and points out the height of dependency on these proxy networks (including partner, children, neighbors and local agents) among rural women, and discusses cases where these networks can be strengthened for inclusion and warns against risk of privacy breach and fraudulence.
. . .
Rahima is a housewife from Dapunia, a village in the district of Mymensingh, Bangladesh. Her son is a student of grade 5 in BRAC school, and a candidate of the primary school certification exam. Although she has been involved in homestead gardening for a couple of years, she used to only perform cash-based transactions. It was BRAC that encouraged her to open a mobile wallet, which she did primarily for the purpose of paying her son's school fees. Despite now owning a personal mobile wallet, Rahima still struggles to perform transactions on her own, due to a combination of technophobia and a limited education in numeracy. Despite her lack of self-confidence, she is making progress with the help of her son who teaches her the functions and navigation process of a feature phone.
"Press *247# for school fee payment," she says. She has memorized the USSD code and follows the student card (a guiding piece provided to all the parents to follow during digital transactions, that contains student information, merchant ID, process and guidelines on transactions) provided from school to easily navigate the wallet. Despite knowing all the steps, she prefers her son or the nearby agent to make the transactions on her behalf, to avoid any kind of error. Afterall, it takes a lot to earn money these days and a small mistake on her part could lead to her losing her income, and at the same time impede her son's continuing education.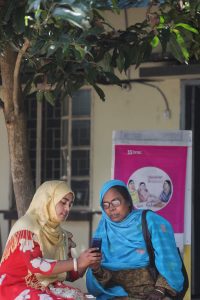 Technophobia is a common scenario among women in rural and semi-urban regions of Bangladesh. Despite being able to perform digital transactions, they lack the self-confidence to take ownership of their transactions. This creates a need for supporting systems (e.g. training, personal guidance, peer groups, etc.) to motivate and empower these women to take control of their wallets. To avoid risks, most women rely on over-the-counter (OTC) mobile money services at agent locations. According to the 2015 InterMedia FII Bangladesh Wave Report, about 33 percent adults have access to MFS but only 9 percent have account ownership because customers are mostly OTC users. With the basic idea of risk reduction, the inclination towards OTC transactions is justified such that, when customers have an agent perform the transaction, risk of loss from wrong transactions and other mistakes may be lower. However, access to these agent locations placed mostly in busy bazaars and shops is limited to women particularly in rural Bangladesh given socio-cultural expectations.
Support also comes from family members — mostly adolescent children — who are adept to the latest technology and are more confident with the steps involved in mobile money transactions. In BRAC's ecosystem, we have seen several instances of secondary school students using their parents' mobile money wallet to pay their school fees. "It's just easier," says Shakil, a 7th grader. "Walking my mother through the process is too lengthy and boring. It's easier for me to do it!"
Mobile money agents in marketplaces and commodity stores serve as another important proxy. In Bangladesh, these agents serve as merchants: opening wallets, providing CICO (cash-in-cash-out) services and making transfers on behalf of clients. For female clients, they often prefer to make transfers from merchant wallets directly instead of investing time in guiding her through the process. "I just cashed out my government post-natal benefit from the agent," says Nillima, a young mother from Bhairab, a peri-urban town west of Dhaka. "The shopkeeper does not have the time to teach me these things, and I don't want to stand here in a busy market for too long."
This support network expanded significantly during the COVID-19 pandemic. With mobility limited further, shop agents played a stronger role in onboarding women to mobile money as cash grants and wages for ready-made-garments workers were sent through mobile wallets. At BRAC schools, 6000 teachers continued receiving their salaries and additional mobile allowances through bKash to ensure uninterrupted phone lessons for over 154,000 learners (as of September 2020). Teachers, field staff and shop agents also encouraged mothers and female clients to keep track of incoming grants through their own mobile wallets.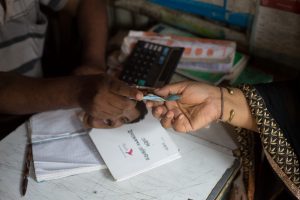 Similar cases also happen where female borrowers complete their microfinance loan repayment as they allow partners, neighbours or nearby agents to conduct the transaction using mobile wallets on their behalf. "I cannot understand the screens, otherwise I would like to use MFS (Mobile Financial Services) myself without visiting the agent." says the 35-year-old Razia Begum who uses MFS via agent-assisted route mainly to withdraw household expenses when required. The excitement of receiving an SMS or call confirming a successful transaction always surpasses the hours of uncertainty and fear of losing money. This excitement gradually turns into confidence (more specifically, dependency) as the agent facilitates more and more transactions on his client's behalf, creating a space of comfort for her.
To women still grappling with technological literacy and control over finances, these facilitated transactions seem hasslefree and to her reduces the risk of losing money. However, this support network also has a dark side, unknowingly creating deeper risks. Solely trusting proxies to make payments on their behalf, may lead to already vulnerable groups becoming victims to unwanted scam, fraudulence and unauthorized charges. Specifying a case of overcharging, a user from Barishal, a coastal town in southern Bangladesh says, "I needed to send money urgently, so the agent asked me to pay a commission. Later my friends told me he should not have charged extra."
Apart from these, phishing is the most prevalent pathway for mobile money scams. It all starts with a professional and caring voice explaining system errors and formulating plans to change the world. Unlike typical ones, this drama ends in a disgraceful and sorrowful tone as the innocent victim loses all of her mobile savings to the fraud due to sharing of the highly confidential PIN number.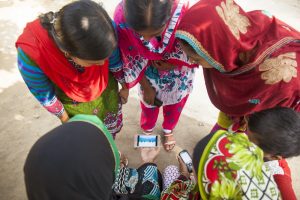 In the global South, for a woman to have complete access and authority over finances, financial inclusion has to be more than just opening an account. Apart from organisational approaches through training, technology and incentive, it is essential to leverage these proxy networks and evolve it from fast and stressless options to trusted partners of change. It is clearly evident that these support systems can inspire these aspiring managers of household finance to take a step forward and to contribute towards efficient financial management and planning for their family. Only then homemakers like Rahima will take the initiative of using their personal mobile wallet for paying their children's school fee in time. But this time, they will do it on their own rather than waiting for the children or the nearby agent.
_________________________
This article has been reposted from Medium. Read the original post here.