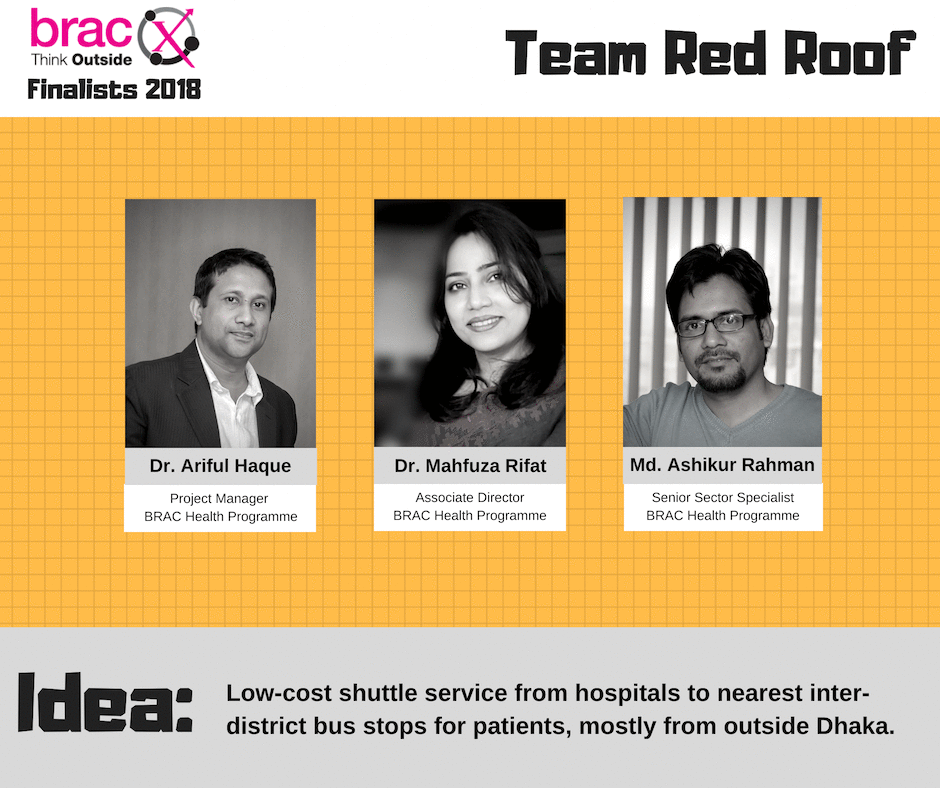 bracX is BRAC's first employee innovation platform that supports BRAC staffs based in the head office, to grow their ideas into sustainable solutions that are tested on the ground.
This summer, BRAC challenges you to solve problems that matter most to you, concern the people we serve, and probably aren't part of your existing work.

Be a part of this first of its kind innovation platform, that is designed to support you to take your passion forward.

This is your chance to commit 20% of your time to THINK OUTSIDE, and test an idea to help BRAC achieve the vision to create a world free from all forms of exploitation and discrimination where everyone has the opportunity to realise their potential.
Win minimum BDT. 2,00,000 to test your idea on the ground
Learn from the best industry experts to develop new skills
Pitch to BRAC's senior leadership and get support to implement your big idea
Work on what you love and turn your passion into a real project
We're looking for solutions that meet at least one of the criteria below:
Ideas that are bold, ambitious, future-centric, yet not impossible
High-impact initiatives that can be done better or have never been done before within BRAC.
Innovations that bring significant improvement to existing BRAC projects, products, processes or services.
As long as your solution helps BRAC to reach its vision and brings large scale impact in people's lives, we are interested to learn more.
We believe that doing good is everyone's responsibility. So what are you waiting for?
Team up and apply!
Step 1: Book an appointment with Social Innovation Lab
Get support from SIL even before you submit your idea. Dial Ext. 3768 to book an appointment.
Step 2: Form a team of 3

Find up to two passionate innovators like you from the Head Office and form a team.
Step 3: Pick a problem


Pick up a problem that concerns BRAC's current priorities, or THINK OUTSIDE.
Step 4: Submit your idea

The application form is simple and can be filled out in either Bangla or English.
May 23, 2018

Round 0

Book an appointment with SIL

June 23, 2018

Round 1

Deadline to submit your idea

July

Round 2

Bootcamp and Proposal submission

August-September, 2018

Round 3

Test your ideas on a small scale for 6-8 weeks

September, 2018

Round 4

Pitch and win!
1
What if my idea is not under BRAC's current strategic priorities?
Your ideas can be within BRAC's current programmatic priorities, or from sectors BRAC isn't currently operating in, e.g. senior citizens, mental health, third gender rights, disability inclusion etc.
2
Will you prefer ideas within BRAC's existing priorities?
No. We do not have any preference. Hence we're asking you toTHINK OUTSIDE.
3
Can I submit an idea for my own programme?
Yes. You can submit an idea for your current or a different programme, or even an entirely independent one, e.g. youth, senior citizens, mental health, third gender rights, disability inclusion etc.
4
Who should I team up with?
You can team up with any colleague based in the Head Office from programmes or enterprises. However, forming a team is not mandatory, but highly recommended. Make sure your team members demonstrate the required abilities to take your idea forward. We suggest having a diversity of skills within your team, with a mix and match of role playing. For example, senior colleagues can team up with junior colleagues, senior colleagues can play the role of mentors whereas junior colleagues do the footwork- making it a team effort. You can use the Facebook group to find your teammate. You will also be evaluated based on your team's ability to make the project happen successfully.
5
I cannot find a teammate, can you help us?
Sure. Feel free to give us a call at Ext. 3768, or email at innovation@brac.net
6
I am confused if my idea is on the right track. Can you help me with it?
Of course! Even before you submit your first idea, Social Innovation Lab will be more than happy to help you develop it further. We will brainstorm with you, share resources, connect you to internal and external resources. And we have dedicated hours for that. You can book an appointment every Sunday or Tuesday from 9.30 AM - 12.30 PM.
7
Can I submit more than one idea?
Yes. But if both of your ideas are selected for prototyping (testing) we will ask you to go ahead with only one.
8
You are asking for one team leader and one co-lead. What will be the responsibility of the Co-lead?
In case the team leader is unable to attend an important event, the co-lead will be taking the project forward as the representative (point of contact) for the project.
9
How do I know if my idea is good enough?
No idea is ever bad. More importantly, a dedicated team of 10 people at the Social Innovation Lab will support you to ensure the your idea can reach its maximum potential. Don't worry!
10
Is there any guarantee that my idea will be piloted, if selected?
The Senior Leadership will be present during the final pitch of your ideas. The best ideas will be selected for the final award. If the panel thinks that the idea is eligible for piloting, then one or more ideas will be selected for piloting, in addition to the title. In this case your team reserves the right to withdraw from the project, while the programme allocates resources for the pilot.
11
What does 20% time mean?
We're asking you to dedicate one-fifth of your work time. For example, if you have 5 working days, then you dedicate one day for this project in the testing phase (for 8-10 weeks).
12
If my idea matches someone else's idea, how will you differentiate?
There are multiple factors based on which an idea will be evaluated. It is highly unlikely that two teams will score exactly the same in both of their proposals/pitches.
13
Who will be evaluating our ideas?
A selection committee comprising of BRAC Senior Leadership will be evaluating your idea.
14
Will you get us mentors from the programmes?
Yes, we will ensure your colleagues support you in your project, to make sure you can test your idea smoothly within the programme.
15
What if my pre-pilot/prototype/on-the-ground testing fails? Can I still win the competition?
Yes. The pre-pilot or prototype is a learning pilot, and it is very common for this to fail. It doesn't mean the idea does not have the potential to reach its impact. Whether it fails or succeeds, if you document the learning and suggest concrete changes for the pilot, you can win the competition.
16
Is it mandatory to have a teammate?
No, but we highly recommend you apply as a team, since it will make your application stronger.