"Technology is supposed to make our lives easier, allowing us to do things more quickly and efficiently."  – James Surowiecki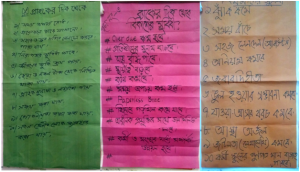 BRAC has partnered up with bKash, a subsidiary of BRAC Bank, to implement 'mobile money' in its programmes in order to make them more inclusive and efficient. Following 7 ongoing pilots of Innovation Fund for Mobile Money, it  is now launching a pilot programme with BRAC Education Programme(BEP) to digitise teachers' salary and school fee of Shishu Niketon schools. In that process, an orientation on 'Mobile Money' was given to BRAC staff working on those areas few days back. The main challenge of the pilot is not only training the parents on bKash procedures, but also convincing them to leave the traditional method and start using it.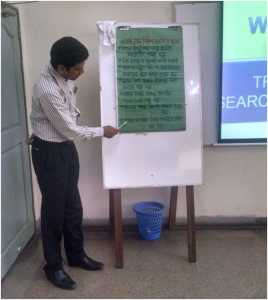 The interactive training covered multiple dimensions of the bKash procedure, benefits from different angles, different uses of mobile money etc. with the help of games and group work. Some interesting parts of the training are given below: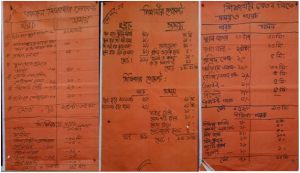 Setting Expectations First:
Before starting the session, the trainer asked the participants about their expectations from the training which gave a clear vision to the trainer of what end results are supposed to look like.
Brainstorming benefits from Different Perspectives:
It was surprising to see how different perspectives came out from the trainees, backed up by logical explanations. These helped them relate better with the overall benefits of mobile money. 
Calculating "Cash Waste" 
When trainees were given a task to calculate their costs and time spent on collecting and depositing the money at the BRAC office, they realised themselves how mobile money can minimise these costs to a great extent.
Training to Train Best:
In the middle of the training session, the trainer gave a brief speech on presentation skills keeping in mind that these trainees are going to be the trainer of hundred other people at the root level. Learning the basics of presentation, trainees felt a lot more confident about themselves which was reflected in the next presentations.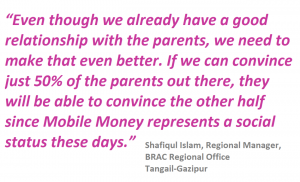 Brainstorming on Potential Field Training Module:
At the end of the session, the potential training module for the field was shared with the trainees who knew better about the parent's mindset. They gave some insights like materials should relate more to students and parents, they should give a happy message to the viewer etc which are getting executed after final discussion.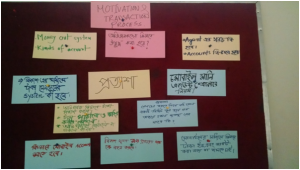 In conclusion, these innovative methods helped sharpen skills of the trainees to train people on the field. Furthermore, these methods can be used in later mobile money trainings to promote more thought provoking and fruitful results.As Mr. AshrafulAlam, Programme Organizer, Habir Bari said,
"If I can learn and get motivated within one day of training, I believe we can convince parents as well. It is very easy to use bKash."
Zaki Anan is an Officer for the BRAC Social Innovation Lab
We'll send you a weekly dose of inspiration.
Just about the right amount, not more.
Scroll Down and Subscribe!