Learning
Research
In partnership with Intermedia a targeted qualitative study was performed to investigate the impact of digital financial services (DFS) on key populations currently under-represented among DFS users: women and youth under the age of 25. Designed to complement large scale nationally representative surveys conducted as part of the Financial Inclusion Insights program, this study found youth to be adept at using DFS, including instances where the youth provided support on DFS usage and trouble-shooting for the relatively older users such as their parents. The study also found evidence of increased participation in financial decision making for some female participants of DFS in remote char areas.
Interestingly, specific use cases as provided by the BRAC pilots were found to be an important introduction for these users into the DFS ecosystem, leading to broader use. Additionally, the human touch points as offered through the BRAC pilots were credited to be an important source of confidence for the new users of DFS. This underscores the importance of providing tailored use cases and also support from agents, staff or even family members, as catalysts to jump start the broader adoption of DFS.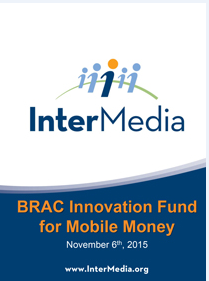 Case Study
Student Case Study: It's (Not) All About the Money: Mobile Money and Innovation at BRAC, by Jessica Meckler, The Fletcher School, Tufts University. Read the full case study here.
BRAC Innovation featured in the news
 BRAC Blog   No lines, no relief camp: 4 lessons on using mobile money for post-flood relief  March 3, 2016
Dhaka Tribune Mobile money in Bangladesh: Will it revolutionise banking for poor women? February 15, 2016
Financial Access Initiative  Can Bangladesh's Youth Drive Mobile Money Adoption?   January 19, 2016
CGAP How Hard is it to use Mobile Money as a Rural Bangladeshi Woman?   October 26, 2015
Impatient Optimists  Warning! Mobile Money May Have Powerful Side-effects September 30, 2015
Center for Financial Inclusion Blog Five Ways to Get Frontline Staff Excited about Mobile Money September 11, 2015
BRAC Blog Beyond pilots: 7 innovative ways BRAC will use mobile money to transform systems  June 7, 2015
Impatient Optimists 4 things that surprised us about using mobile money for school fee payments March 10, 2015
Next Billion Ideas Wanted – Mobile Money for Millions: BRAC's Innovation Fund for Mobile Money 2015 Challenge opens March 20, 2015
Forbes Global Health Looks To BRAC And Gates Foundation For Mobile Money November 29, 2014
Stanford Social Innovation Review The Challenge of Scaling Digitally  April 18, 2014