Few days back Social Innovation Lab team along with Pushpita Apa, who is currently in charge of setting up low cost secondary schools project, went for a field visit, in Savar, Dhaka. The project we went to visit was Skills Training for Advancing Resources, STAR, BRAC's new youth initiative running under BRAC Education Program. I also got the opportunity to see some of the clients of STAR in Chittagong City. Both were remarkable experiences. Basically, the project provides vocational training to the youth of Bangladesh between the age group of 14-18. STAR project ensures not only the skills training of their clients, but also helps them find a workplace to be able to use those skills, and eventually through mentorship and monitoring help them realize their potential and empower themselves.
It seems the project is being able to follow its objectives pretty well. STAR provides class room training as well as creates scope for their clients to get practical experiences. Students get to learn mobile servicing, tailoring, motor bike repairing, beauty skills etc. The project selected some master craftspersons to mentor the students, who have years of experiences in the relevant sectors in which the clients are getting trained into, mostly they are the businessmen running their business in the local market. They let the students come to their shops, and work and learn. And it proved to be a much more effective way of learning. Students get to work in a particular shop they have been appointed to for six months and after that most of them start working as an employee there. The mentors also seem very happy with the fact that they get to employ these students who they trained by themselves. Both the parties get incentives, and the students get TK 11,000 each after their completion of training.
So what is so great about this project? While I was in Chittagong I got to talk to some of the parents of the students. All of them stated one similar thing; not only were these students unable to study because of their financial condition, but most of them did not have any interest to continue education. This eventually resulted in them dropping out of schools. When I spoke to one such student, Russel, who now gets trained to repair motor bikes and who is a school drop out, told me about how much he enjoyed the training and learning about them and showed the same level of aversion towards formal
Russel : Trainee, Motor bike repairing         Parents of a STAR trainee

schools. He says, 'I like bikes and like to be around them'. Through his enthusiasm and devotion, it's not hard to guess that he will learn more about motor bikes than anything else. Parents appreciate the quick result children get out of the training. A lot of them said, they are now a little less tensed of running their homes since they hope that this training will help their sons/daughters to get a job. So the biggest achievement of this project so far has been to engage a group of school drop outs to income generating activities, and help them become independent and  responsible individuals when they grow up. On the other hand, it is very important to notice the gaps that our formal education system has. Few of the parents think formal schooling should include vocational training within the curriculum, which might make the whole system more effective.
But at the same time it is equally important to ensure monitoring of these students. More focus should be put on engaging the students into income generating activities, to guide them with the amount of money they will be provided after the completion of training. Emphasis on Financial literacy training might be an issue the project should look into. After talking to few of the students, it seems that they have little knowledge about savings and how to handle money; but they need to be more prepared when they are done with the training!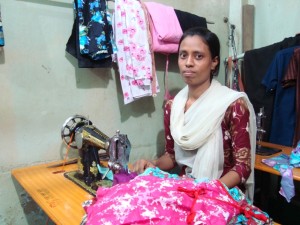 Halima Akhter (15) : Trainee, tailoring
The impact of the project may lead to something we never expect! Building Entrepreneurs! A 15 year old girl, Halima Akhter, who is getting her training to be a tailor, showed interest to possess a tailoring shop on her own – this to me, is a very important fact to notice. She dreams about being an entrepreneur and the courage she found through the training she had is so remarkable that she now actually have a plan to do with her life, which we found to be lacking within a lot of young people of Bangladesh who are not under any social interventions. Most of the random young people we talked to said they do not have a future plan and they never think about it either. So it is great that the project is helping to bring a change into the mindset of youth and help them think more rationally and in an organized and planned way. So there is scope to establish an infrastructure for these highly motivated entrepreneurs to pursue their dreams. And eventually create a strong workforce amongst the youth of Bangladesh.