Chachaitara Madla Jukto Uchcho Bidyaloy, a high school in the Madla Thana of Bogra stands strong bearing witness to 77 years of history and heritage of the locality.
Established in 1939, the school hasabsorbed generations of changes and innovations in the education sector and still aims pave the way for the rest.
The school has supported BRAC activities all through. BRAC Education Programme had established a Gonokendro in 2002 in the school that serves both as a library and a learning hub for the locals.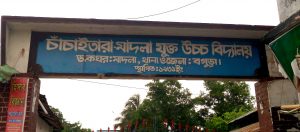 The large room has separate corners for separate activities, each meeting the learning and entertainment needs of the students during school and the locals after school. Students crowd up the space in their off periods and Tiffin breaks. An entire wall is dedicated for books, with several inspiring quotes being painted across the walls.
It often offers skill development opportunities and competitions to keep the space active. It even has a TV!
But what makes this Gonokendro so different is, a simple thing that has solved a problem in a fun and efficient manner!
Just few years ago the Gonokendro was struggling to attract female students. Occasionally one or two would come to read or issue books. It hardly saw girl groups in the room, unlike the groups of boys who came together, read/watchedtv together and left together.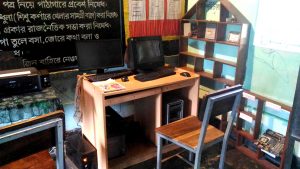 The librarian was really concerned as she could not offer anything to the girls in the space, who were often either uncomfortable for the presence of the boy groups, or were too few in numbers to enjoy an activity together.
She spoke to the teachers and students on how she could make this spot as much fun for the girls! She also had a huge limitation in terms of the funds.
She experimented with a simple idea. She installed a giant mirror in one of the walls hoping to get the attention of the girls. Slowly one or two girls started coming, then more and more of them would come in groups and spend some time in front of the mirror.
Eventually they started feeling comfortable hanging out at the space, when other girls would come, they would no longer see the room full of just boys.
This simple idea made sure that girls were coming to the place. Now finally the Gonokendro started having female students willing to be trained on computers.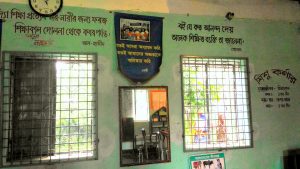 In fact now often the boys are uncomfortable seeing such huge numbers of girls scattered around the place!
We'll send you a weekly dose of inspiration.
Just about the right amount, not more.
Scroll Down and Subscribe!