"Ora hashlo jokhon oder bollam je ami chole jabo." "They laughed when I told them that I would leave." This is how Amina Begum, a 76 year old mother, expressed her sorrow and helplessness. After her husband passed away, her health deteriorated and she was confined to bed. Her son and daughter-in-law both worked but tried their best to take care of her. However, Amina found herself lonely and with no one to talk to most of the time. Even on days when she felt better, she was not allowed to step outside her bedroom on her own because everyone feared she may fall down and hurt herself. And since no one could manage to be with her constantly, she was made to remain either sitting or lying down on her bed. As the days passed by, the monotony and isolation became too much for her to bear and out of sheer frustration, she threatened that she would go away. But everyone just laughed.
This is the situation that many of the 7 million elderly people currently living in Bangladesh find themselves in. Life expectancy in the country has increased from 36 years in the 1950s to 61 in 2005, and is expected to exceed 75 years by 2050. Like many developing countries, Bangladesh does not have a social security system. Women, on average, live longer than men and many, like Amina, outlive their husbands. But, while it is customary for men to remarry after the death of their wives, women are prohibited from doing so.
Traditionally, sons and their wives are expected to care for parents in their old age, but many are finding this difficult in Bangladesh's changing context. Migration, rapid urbanization, industrial growth and the dramatic increase in women's participation in the labor force are affecting both the poor and those who are not, and apply to urban as well as rural areas. Problems related to looking after of old parents are emerging as an implicit but major cause of divorces. Yet, despite these growing challenges, the concept of placing old people at 'briddhashrams' (meaning, places that provide refuge to old people) is viewed negatively. And the idea that an old home might be somewhere that an elderly person would choose to stay is inconceivable for many.
With this as context, the BRAC Social Innovation Lab organized a forum on June 24 to spark a discussion on the well-being of senior citizens. Golam Hafiz Khan, a BRAC veteran and social entrepreneur, and his wife Salina Akther, shared their experience in developing the innovative Subarta Trust, a non-profit old folks home that provides residential care facility and assisted living arrangements, food, recreation and geriatric services to elderly people for a charge. Salina apa won the prestigious 2001 Daily Star-DHL outstanding woman in business award for the Subarta Trust. The organization is also pioneering the development of professional 'caregivers' – persons who receive customized training to take care of elderly people. Subarta is currently operating six old homes in Dhaka, Savar and Netrokona.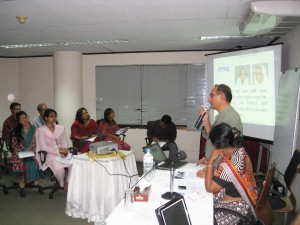 Following Hafiz bhai's presentation on Subarta, Salina apa responded to the audience's many questions. She explained how the purpose of the Subarta old homes was to allow people to plan for their old age while they are still physically and financially able. In her words, "It is a plan that allows them to invest while they are still earning so that they can look forward to a future on which they have control; a future that ensures comfort, care, dignity and respect." Subarta is attempting to introduce a culture of thinking more broadly and pragmatically about the well-being of the elderly. It is promoting the concept of fee-based retirement homes as a well staffed, managed and equipped, secure and dignified alternative to 'briddhashrams' – which, because they do not charge fees, are widely perceived as places where poor people drop off their elderly and just forget about them. Already it plans to establish and manage another initiative called 'Swapnolok Peace Valley'. It will be the first of its kind in Bangladesh and comprise a fully serviced senior citizens complex in which people can buy units that they can use for themselves, rent out, re-sell, or pass on to their children.
So far, the Trust has generated surpluses that enable them to extend services to more poor people, but financial issues are not the major barrier it confronts. "Social taboos are the biggest problem facing old homes today," Salina apa asserted. Operational challenges include getting people to rent space for setting up these homes and recruiting and training female 'caregivers' for a job that requires them to be on call 365 days a year. Having more people volunteer to do simple things like spending time with clients or staying with them overnight at hospitals would be a massive help and mitigate staff shortage.
Experts opine that the task cannot be accomplished by individuals or private organizations alone—nationally the number of elderly is growing and their needs will require prioritization. Major activities are needed in recruiting and training 'caregivers', implementing for and non-profit options, and combating stigma. Enterprises such as Subarta are at the forefront of private citizens' initiatives to address social issues with a hands-on approach that also incorporates profitability as a cornerstone.
Written by Ishtiaque Hussain, BRAC Social Innovation Lab.