By Grace P Sengupta
This year, BRAC Integrated Development Programme (IDP) is scaling up the Nearly Cashless Branch through Innovation Fund. The project team organized a two day training on mobile money for the project staff and frontline workers from the Cashless Branch in three sessions. The training was full of new learning along with practical experiences on the spot. Here goes the 6 wonderful moments from the training:
The groups were named after the services of bKash: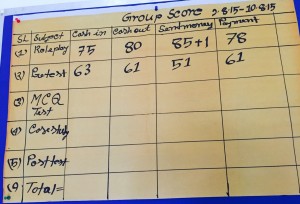 26 participants were divided into 4 groups. The 4 groups were named as Cash in, Cash Out, Send money and Payments.
One phrase: all services: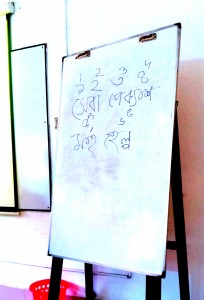 She-ba Pay Cash My Help. If you can remember this phrase, your life can be easier when you want to use bKash. Here,
She= Send money
Ba=Buy Airtime
Pay= Payment
Cash= cash in
My= My bKash
Help= Help desk.
If you dial *247#, you will surprisingly find the similarities between the menu and the phrase. The phrase may look funny when you read it, but from the previous experience of IDP, it actually made sense to the project staff and the clients.
The "Send Money" competition:

Participants actually sent money to each other's phone using their bKash wallet. For some of them, it was their very first experience of sending money through bKash.
On the spot wallet opening: A bKash agent arrived at t

Md. Jamal Hossain, a bKash agent from Comilla Cantontment sharing his experience

he place and answered a list of questions which came directly from the field levels. On top of that, he also solved a lot of problems of the project staff and opened a new wallet.

Explaining the case studies:

The 4 groups were given four cases to understand the context and the concept of mobile money. They also explained their cases beautifully and answered questions.
Role playing: This part was the best. In this session, the participants actually practiced how they will motivate the clients so that they feel interested to use bKash. They wrote a script of a short drama in 10 minutes and also performed really well in front of the rest of the group.

Participants presenting their short drama by playing different roles
Quote of the day:
Md. Sabrin Momtaz, SSR, Saddambazar, Noakhali, sharing his thoughts with the group

I previously thought there must be some cost for providing bills and payment through bKash. But today after the training I realized there are no additional fees for cash ins' through bkash. – Md. Sabrin Momtaz, SSR, Saddambazar, Noakhali


Jasmin Akter and Lovely Begam, Facilitator, HNPP, sharing their thoughts with the author

We never believed that apart from making phone calls we can do so much with my phone. Transaction through mobile money is very useful. We buy air credit using my bKash wallet and we are hopeful that we can motivate the clients to use bKash by referring to our advantages.


– Jasmin Akter and Lovely Begam, Facilitator, HNPP
The team went back with lots of new learning and motivation and they are looking forward to implement the new learning with their respective clients.
Grace P Sengupta is an Assistant Manager with the BRAC Social Innovation Lab. Follow her on twitter @gracepsengupta.

We'll send you a weekly dose of inspiration.
Just about the right amount, not more.
Scroll Down and Subscribe!